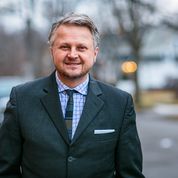 Serving the people of Detroit is a privilege Gabe Leland forfeited long ago
By M.L. Elrick
It never should have taken this long for Detroit to be rid of the now former City Councilman Gabe Leland.
It's been seven years since I first raised questions about Leland's fitness to serve the people of Detroit; nearly four years since I revealed that he voted to give $2 million in city contracts to companies owned by his then-girlfriend; more than three years since I exposed his effort to get $15,000 in illegal payments from a Detroit businessman and a federal grand jury indicted him on public corruption charges; and nearly a year since his own attorney acknowledged Leland committed a felony and would plead guilty to misconduct in office.
Today, Leland resigned from office after telling a judge what we already knew — he broke the law. Afterward, Mayor Mike Duggan said: "The charges against Gabe Leland were a negative cloud hanging over the City of Detroit. With his decision to resign, we can now move forward and focus on the business of rebuilding the city."
Amazingly, this was the first time a Detroit official criticized Leland's conduct. For months, I've been calling for Leland to resign, or for his colleagues to defund his office. Yet he continued to enjoy the privileges of a city councilman. He continued to drive a city vehicle and draw a salary of nearly $90,000 off the backs of the hardworking people who voted for him. That sent the wrong message to Detroiters who elect officials based on the promises they make while running for office and the progress they make when they get in.
Elected officials are held to a higher standard because they take an oath to serve the people. But it's been clear for far too long that the only people Leland was interested in serving were himself and his cronies.
For more than 20 years, I've been holding public officials in Detroit and throughout Michigan accountable. Now, as a candidate for Detroit City Council in District 4, I'm hearing from neighbors who agree we deserve accountability, safety, and opportunity from the people we elect.
I've been knocking on doors since January, and voters tell me they agree we need opportunities to help better ourselves and our families—not opportunists like Leland interested in enriching himself.
We want leaders who are dedicated to our safety. We want honest officials in office protecting our tax dollars and setting an example by abiding by the law — just like the rest of us are expected to do.
We expect elected officials to be held to the same standards we're held to and to pay the same price when those standards are broken. Who among us would have been allowed to keep our job under the same circumstances as Gabe Leland?
Leland is gone, but it never should have taken this long.
For years, I've called out officials who put self-service before public service. Detroiters know I'll never sit in silence next to someone who has violated his oath and betrayed us all.
What Detroit politics need now is honest change.
###